Aids Impact Mitigation Project

The AIDS Impact Mitigation project (AIM) falls under RWF's AIDS Project of Compassion (APC) and was a USAID funded project, implemented by Winrock International, to build the capacity of Nigerian NGO's to respond to the impact of HIV/AIDS in their communities.
RWF as one of the implementing organisations for this project signed its first contract with Winrock International in April 2007 with the goal to improve the quality of lif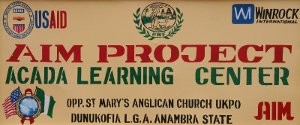 e of HIV affected and infected individuals and their families with a special focus on single mothers and widows and to provide quality comprehensive, compassionate care and support for Orphans and Vulnerable Children (OVC).
The organisation had four and half years of successful collaboration with Winrock International staff in Nigeria and carried out activities in 35 communities in the two states designated for the project - Anambra and Imo states. By the time the project activities ended in February 2011, RWF had provided 3,500 orphans and vulnerable children with numeracy, literacy, life skills and HIV prevention education and various nutritional support. 1,500 caregivers, PLHIV and CSWs were also reached with income generating activities.
In addition to the above, RWF also reached more than 10,000 community members through its various HIV prevention messaging. RWF's collaboration with Winrock International in Nigeria was one of its most memorable collaboration as it not only enhanced the organisation's experience in working with orphans and vulnerable children but also provided many opportunities for RWF to improve its internal systems through the many capacity building trainings that our staff members attended.
For more information on Winrock International, please visit their website: http://www.winrockaimng.org/.